In Montreal, Aboriginal people represent 0.5% of the population, but 10% of the homeless. Many are suspicious of the health system, which makes them even more vulnerable. Incursion into their world alongside the Médecins du Monde mobile clinic team, whom we accompanied three times last fall. Testimonials.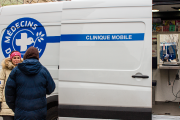 A stone's throw from Place des Arts, a Médecins du Monde nurse talks to a man in front of the treatment truck.
PHOTO SARAH SIMMONS FOR DOCTORS OF THE WORLD
Chief, 61 years old
Mid-December, 10 am At Mission St-Michaels, a homeless day center, we are getting ready to serve the snack. There is already a small gathering outside the door when the Doctors of the World treatment truck arrives, President-Kennedy Avenue, a stone's throw from Place des Arts.
At the wheel, the nurse Laurence Éthier skilfully bypasses a barrier and parked the truck in the back. Some regulars are approaching. Near the sidewalk, Inuit women talk to each other. It moves.
An elderly man comes forward, a cane in his hand. He introduces himself to La Presse as Chief, a nickname that reflects the respect he inspires: his features are reminiscent of those of David Suzuki. He is 61 years old but looks older.
Chief has been in the street since 2001, when he left everything – Kuujjuarapik, his five children and his ex-wife – to come to Montreal. He has never returned to his home village since.
In his early years in Montreal, Chief was doing «rough sleeping» – he slept where he could. But now he sleeps in a shelter. His arthritis hurts him too much. Through his jeans, you can easily see the irregular shape of his left knee. «I am an old man now.»
He has never seen a doctor for his arthritis.
«I do not want a metal knee. When I'm going to die, I want to be natural. It is important. My great-grandmother told me so.»

Chief
61 years old
The care truck, which receives one patient at a time, is released. Chief accepts that La Presse accompany him inside the consultation. «I'm just going for Tylenol», he says.
Coming home, Chief goes straight to the point: «I need Tylenol 500», he told the nurse. It's for my arthritic knee.»
Laurence Ethier asks her some questions about her situation, examines her knee and inquires about her pain. She tells him about the CLSC des Faubourgs, rue Sainte-Catherine. «You should go, they are good people», she told him.
«I'm an alcoholic», replied Chief. I can not take medicine. Laurence reminds her that Tylenol and alcohol do not mix well either. «I just take it once a day, at 6 am, and I do not drink until 7 am», he answers.
Chief leaves with a CLSC des Faubourgs card and a bag containing six Tylenol 350s. As he leaves, he turns around: «Tell Justin Trudeau to take care of the homeless, not just refugees. We are refugees, we do not have a house.»
Chief rushes inside Mission St-Micheals. Dinner will be served soon.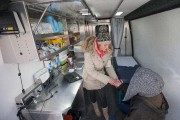 Laurence Ethier, nurse at Doctors of the World, in the body care truck.
PHOTO IVANOH DEMERS, LA PRESSE
Rick, 34 years old
Tuesday, 6:45 pm It's dark, it's cold, it's raining. Tonight, the Doctors of the World truck will be parked in front of Projets Autochtones du Québec (PAQ), an organization that hosts Aboriginal, Inuit and Métis homeless people on De La Gauchetière Street, near Chinatown.
A man and a woman smoke a cigarette outside, near the door of PAQ. «You can talk to us, we will not eat you», says the man.
He is thin and his features are fine. His name is Rick, 34, from Arctic Bay, «the most northerly village». He knew little about his native village: he was only six when he arrived in Montreal with his adoptive parents and adoptive siblings.
Why did his parents leave the North? Rick is not sure, but he presumes that his adoptive mother wanted access to affordable alcohol. «I wonder how I did not become an alcoholic or drug addict», says Rick in impeccable French. Are you sober? «I am doing my best.»
His adoptive father, whom he loved very much («He was honest, paid his bills»), was snatched to death by a car in the north about twenty years ago. The family then dispersed. Four of his adoptive brothers and sisters are now dead. Rick does not see the others anymore.
A year and a half ago, he returned to Arctic Bay, a 10-hour flight from Montreal, hoping to find his biological family. He met his biological parents and found out he had 5 brothers and 10 sisters. «Apparently», he says, «I'm in the middle.»
For 10 years, Rick does not always have an apartment. He has been sleeping in a shelter for four months. «It's temporary», he says. He hopes to soon be able to move in with his girlfriend (the woman he smoked with at the entrance) as part of a project led by a member of the community. He would learn traditional hoop and sculpture.
Rick does not consult doctors. He has never met the Médecins du Monde mobile clinic team either.
«We are too used to traditional medicine. Inuit, we trust the Inuit.»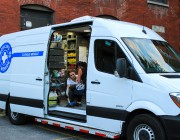 The most common clinical cases at Médecins du Monde's mobile health unit are mainly related to skin problems and those related to consumption, explains nurse Laurence Ethier.
PHOTO SARAH SIMMONS FOR DOCTORS OF THE WORLD
Mary, 39 years old
A little woman approaches. She does not wear toques or mittens. Only a light coat covers his shoulders. It's still raining and it's getting colder and colder.
Mary (fictitious name) is not drunk, but she smells of alcohol. She's waiting to sober up before she can get inside. As in other shelters, to be admitted to PAQ, residents can not be in a state of advanced intoxication.
While waiting for the Doctors of the World truck to be released, Mary tells us that a doctor thinks she has ovarian cancer. «He tested my blood», she says in English. «I hope I do not have cancer. That's why I pray. My mother died of cancer.»
Mary left her Inuit village just a year ago to come to Montreal. She was pregnant and the child's father beat her. And in the North, she says, alcohol is expensive: $100 lemickey (375 ml of alcohol), compared to $13 in Montreal.
«I came here to have an easier life, but my life is heavier», she says.
His new boyfriend has been imprisoned for some offense. And Mary gave birth to a stillborn baby. «When the doctor put him in my arms, he was so beautiful», she said, miming the gestures. «I did not want to give it back«
Since then, 39-year-old Mary has been living on the street, far from her two 12- and 22-year-old children who live in the North. She is alone, with all the dangers that implies. Three times, she says, she was raped.
«I do not want to go home without my baby. I'm so embarrassed to go home», said Mary, bursting into tears. An Inuit woman runs to her and hugs her. It's still raining.
***
It is nearly 10 pm, the exit draws to a close. Nurse Laurence Ethier and Sarah McConnell Legault, a volunteer doctor, met seven patients tonight. Three months after arriving at Doctors of the World, Laurence Ethier now feels accepted by the clientele. «It took a while before it broke», she says.
The most frequent clinical cases? «Everything related to the skin: sores, bed bugs», explains Laurence. Problems related to consumption – abscess, cellulite, phlebitis. Sprains on the ankle. And screenings of MTS.»
Collective prescriptions allow the team to deliver various medications: Advil, Tylenol, Gravol, treatments for various STDs and vaginal infections. «And Narcan, for respiratory distress related to an opioid overdose.»
Returning to the offices of Doctors of the World, Sherbrooke Street, Nadja Pollaert talks about the generosity of volunteers and partners, the needs of the organization (we are looking for volunteer dentists), limited financial means and the difficulty, sometimes, to enter the boxes drawn by the government.
«It's care, but it's more than that», says Nadja Pollaert. It's humanism, kindness, generosity. And it is to accompany these people so that they can have access to care in health institutions.»
Technology for the homeless
«The only thing we want is the first name and the first letter of the last name. It can also be a false name. As long as they remember.»
Leaning over a screen, Nurse Laurence Éthier explains how the Médecins du Monde care truck electronic file management system interface works.
While in Quebec, a number of front-line clinics still use handwritten records, the mobile clinic has had a state-of-the-art system since last summer.
Telus Health offered the organization its Medesync system (already used in many clinics) and adapted it, free of charge, to the specific needs of Doctors of the World.
Vulnerable people who visit the clinic do not need to provide their real name or health card number. One can specify their nationality, the language spoken, include the result of tests… The nurse can also take a picture (of wounds, for example) and send it to the volunteer doctor on call to get his opinion.
«It allows better communication between all the volunteers and a better follow-up of the patient.»

Hélène Chartier
Vice President Marketing and Strategy Telus Health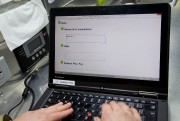 Telus Health has offered Doctors of the World its Medesync system and adapted it, free of charge, to the specific needs of the organization.
PHOTO IVANOH DEMERS, LA PRESSE
«Before, nurses had to carry four boxes of files», recalls Nadja Pollaert, Executive Director of Doctors of the World Canada. It changed the way we work.»
Hélène Chartier added that the system could also facilitate the transfer of patients who will be reintegrated into the health system. Finally, when data are anonymized, the system will also be able to document, with statistics, the homelessness situation in Montreal.
The tip of an iceberg of malaise
Why are Aboriginals overrepresented on the street? Interview with Dr. Stanley Vollant, Innu surgeon of the indigenous community of Pessamit.
In Montreal, 10% of the homeless are Aboriginal (Inuit or First Nations), but the Aboriginal people represent 0.5% of the population. Why are they overrepresented?
It's the tip of an iceberg, actually. And the iceberg has several points: homelessness, dropping out of school, the suicide rate, missing women, suspicious child deaths… We try to treat each point differently, but they are all connected together under the water and it's the same damn iceberg underneath.
And what is the iceberg?
The problematic of a malaise in the communities. The emotional safety of people is not assured in communities because of poverty, services that are not available, the element of violence that comes from recent social history [colonization, residential schools]. All of these things put together mean that communities are struggling a lot. And the further away you are, the harder it gets.
Inuit, by the way, are overrepresented among Montreal's homeless homeless…
It's not just Montreal; we see the same thing in Ottawa. They are people who have fled from difficult situations in their community: consumption, problem of abuse, problem of violence… They went to town with the idea of a better world, thinking that by changing their environment, their situation would improve, they would have work, but they bring with them their problems (consumption, mental health). In the city, they lose their cultural references, their social fabric. And they find themselves in the street.
And what do we do to improve the situation?
We must find the root. And the root is to improve the living conditions of natives in general. Invest in education, in services. The day our communities will be places to live, develop, educate, grow and love, fewer and fewer people will go to town. And the people who will go to town will go by choice, to do something special. Not to flee a situation.
Stakeholders working with homeless people told us that they had met some seriously wounded natives who refused to be taken to the hospital. Is there a mistrust on their part of the health system?
I think there is a general mistrust of all aboriginals – whether they are on the street or not – in health care. And homeless people – Aboriginal and non-Aboriginal – also harbor distrust of health systems. They know they will be judged, that nurses and doctors will be stupid. […] I think that we should teach, in our schools of health – doctor, nurse – the concept of cultural secularization, to learn to treat people without prejudices, by putting aside our glasses of North Americans who have lived a comfortable life.
Is the vision of Aboriginal health different from the vision of western health?
We can talk about holistic health, a more global vision of health principles. In Ontario, there are 14 integrated urban care centers where aboriginals can access regular physicians who work with healers and practitioners in Aboriginal centers.
CATHERINE HANDFIELD