A house for homeless or precarious Aboriginals is being built in Montreal. A $ 7 million project, for which the sponsoring organization had a hard time finding a site, claiming to be a victim of the «not in my backyard» syndrome.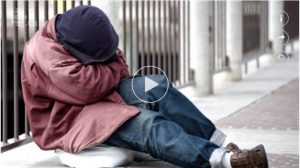 After studying at least 37 different sites, Projets Autochtones du Québec finally acquired a lot on rue de la Gauchetière in the Ville-Marie borough. Just a stone's throw from the CHUM, the new refuge will seat around 70 people. A shelter already exists today, but the organization will double its capacity.
«Right now, it's only night-time emergency services», says Adrienne Campbell, of Projets Autochtones du Québec. «With the new project, men and women will be on different floors, with a common community space». Some fifty people will be accommodated in the shelter sector, in addition to about fifteen transitional chambers.
«These are rooms for people who want to get out of the street, but need more support. They will have more services that are adapted to their culture, their knowledge and their way of doing things», continues Adrienne Campbell.
Unwavering support from elected officials
This time, the organization can count on the unwavering support of Ville-Marie borough officials. Montreal Mayor Denis Coderre is promising that he will be working alongside Quebec's Native Projects. «They have my full support. We will go to the field. We are here to be in solution mode. Do not put your head in the sand. There is a situation, we will settle it», he says.
Projet Montréal's official opposition also ensures that it will support the project. «In the city center, necessarily, there are social issues that emerge», says city councilor Valerie Plante. «As elected officials, we must position ourselves and we must be in favor of these projects», she adds.
Increase in the number of Aboriginal homeless
According to Matthew Pearce of the Old Brewery Mission, there is an increase in Aboriginal homelessness in Montreal. «It's clear that there is growth, in all categories, but more importantly among Aboriginal people».
He cites as an example the Inuit who come to Montreal for health care but do not return to their communities.
According to him, it is necessary to have different services for Aboriginal people. «We must adapt the services so that they are up to speed and they [speed up] the street to reintegration.»
The new shelter is scheduled to open in March 2016.