Building confidence and practical skills for life!
Life Skills Program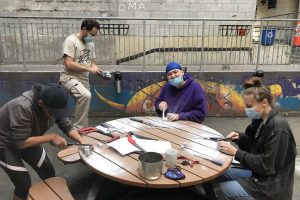 It is a pilote project that aimed the acquisition of life skill and the reconstruction of self esteem for First Nations, Metis and Inuit people. This program is for people who lives in the transition rooms of PAQ but is also open to everybody of the urban Indigenous community. Participants agree to do a 12 weeks program for a total of 180 hours of formation, so 15 hours each week, 3 hours a day, Monday to Friday.
There are many components that are explored during the 12 weeks. Participants are having language classes (french and english), math classes, but also practical classes like cooking lessons, budget creation, meditation and self-esteem. One of the really important aspect is the cultural and artistic sides. Every week, participants learn how to create a Indigenous crafting like sculpture, drum fabrication and embroidery.
Click here to see memories of the first session of the program.
Click here to watch a legende created by the participants.
For more information, please contact :
Julie Delisle
julie.delisle@paqc.org