We give more than a bed for the night!
Managed Alcohol Program
It is a pilot program of permanent housing with the possibility for the resident to participate at a Managed Alcohol program (MAP) in order to reduce supervised housing obstacles and attenuate acute, chronicle and social harms related to alcohol addiction. This program offers an option of services-housing with a Managed Alcohol Program for 8 Indigenous men in homelessness situation with a severe alcohol addiction.
For the resident, the objectives of the program are :
Offering a space that is favorable to stabilization and to life quality improvement.
Improving access to primary health services.
Putting in place a significance community support.
Connecting or reconnecting with Indigenous cultures.
The house in which 8 men will stay is situated in down-town Montreal, with 8 furnished and private rooms, 3 washrooms, a shared kitchen, a patio and a game room.
There are many advantages to participate at this program and stay in this house.
A private and lock room
Reduction of hospital visits
Socialization with room-mates
Stabilization of alcohol consumption.
Staff on site in urgent case
A shared house where it is possible to (re)connect with our Indigenous roots.
For more information, please contact :
Dianna Marini
dianna.marini@paqc.org
Life Skills Program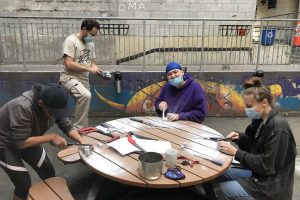 It is a pilote project that aimed the acquisition of life skill and the reconstruction of self esteem for First Nations, Metis and Inuit people. This program is for people who lives in the transition rooms of PAQ but is also open to everybody of the urban Indigenous community. Participants agree to do a 12 weeks program for a total of 180 hours of formation, so 15 hours each week, 3 hours a day, Monday to Friday.
There are many components that are explored during the 12 weeks. Participants are having language classes (french and english), math classes, but also practical classes like cooking lessons, budget creation, meditation and self-esteem. One of the really important aspect is the cultural and artistic sides. Every week, participants learn how to create a Indigenous crafting like sculpture, drum fabrication and embroidery.
Click here to see memories of the first session of the program.
Click here to watch a legende created by the participants.
For more information, please contact :
Julie Delisle
julie.delisle@paqc.org
Safe Start Program
The Safe Start Program is like a landmark and a reference for Indigenous women and men new in Montreal and who are at risk of being in a vulnerability situation. Our intervention worker provides an intense follow-up while taking an holistic approach for the needs of Indigenous people who just arrived in the city. This allow to reduce the cultural choc by giving a nice, positive and culturally adapted introduction in urban space.
By working in collaboration with other services and organizations, the Safe Start intervention worker help the new Indigenous in Montreal in many ways like support at the airport or bus station, accompaniment to culturally adapted resources, familiarization with the city and support to appointment.
For more information, please contact  :
Joanie Atshikush Duchesne
safestart@paqc.org
Psychosocial Support
Our case workers and psychosocial workers are always available to intervene with the Indigenous community of Montreal. Like that, they are always available to intervene in case of crisis, but also to give advices and to support members of the community in the achievement of their personnel objectives at short and long term. It can be for a job, a housing or to organize their finances, everybody who comes at PAQ will receive an adapted and personalized service.
For more information, please contact  :
At the shelter : Marie-Eve Picard
sheltercaseworker@paqc.org
At the transition rooms : Matthew Biddle
transitioncaseworker@paqc.org
Justice and Health
PAQ team is always in touch with external workers to help members of the community in many areas of their life.
A mobile team of the CLSC nurses come each week to discuss with participants and meet those who needs health and medical advices. Thanks to these nurses, participants can easily have access to an appointment with doctors or they can obtain help for many health problems.
The Mobile Legal Clinic come regularly to help members of the PAQ's community with law students headed by professional lawyers who answer all their questions. Like that, participants can understand more easily and have some help in some more complex files who ask for legal knowledge.