PAQ wishes to thank every individual, organization and foundation who has given us their support. Small or large, every donation offered to PAQ is reinvested in the mission of the organization in order to improve the everyday life of homeless Indigenous people living in Montreal. It is because of you that PAQ can provide programs to help and to provide opportunities and services to Indigenous women and men.
PAQ members thank you from the bottom of their hearts.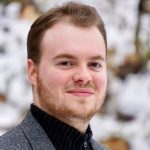 Leo Purich is a Montreal-based composer and a performer on viola, violin, and piano. He has received three Young Composer Awards from the SOCAN Foundation, and commissions from ensembles such as the National Youth Orchestra of Canada, Orchestre de la Francophonie, Choeur Saint-Laurent, and Quatuor Saguenay. For more information, click here.
Leo found out about PAQ several years ago as a member of a carolling group that was donating to the organization. After learning more about PAQ, he was inspired to organize a fundraising album as a virtual replacement for carolling. The album  is still available here. Subsequent sales will continue to be donated to PAQ.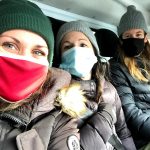 At the beginning of November 2020, Maïté found by accident the Calendrier de l'Avent Inversé project that take place in France et she liked it. She thinks: "Why not doing it in Montreal?". In less than one month, it was a big challenge to accomplish! It is at that moment that Claude proposed himself to get involved in the project, a well appreciated partner.
Maïté was looking for organization where she can give the presents. She was wishing that they were all going to people in need without any discrimination and it is why she decide to include PAQ in the list of organizations. It's a total of 600 boxes that were made and collected by several volunteers and redistributed in many organizations.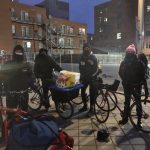 Michaël and the Crankmas team of Montreal gived a mountain of food to PAQ in December 2020. Cranksmas, it's bicycle participants who receive a shopping list where to buy non-perishable goods.
During these last years, they help many other organizations, but they choose PAQ in 2020 because: "The Indigenous people survived to the devastating process of the colonization. Reconciliation will take time to materialize and we think that every gesture count. Indigenous in homelessness situation face a double challenge because of the systemic discrimination alleged by many with regard to law enforcement. Mostly, in times of pandemic, we see that homeless people where more exposed to the virus."
Partners and Collaborators
CLSC des Faubourgs – Équipe Itinérance
Commissaire aux relations avec les Peuples autochtones, Ville de Montréal