Thank you to all individual donors, foundations, and corporations who support our critical work. Small or large, every donation to PAQ helps our mission to improve the everyday life of homeless Indigenous people living in Montreal. Because of you, PAQ can continue to provide critical programs, opportunities, and services to Indigenous women and men.
PAQ members thank you for your generosity and continued support.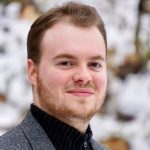 Leo Purich is a Montreal-based composer and a performer on viola, violin, and piano. He has received three Young Composer Awards from the SOCAN Foundation, and commissions from ensembles such as the National Youth Orchestra of Canada, Orchestre de la Francophonie, Choeur Saint-Laurent, and Quatuor Saguenay. For more information, click here.
Leo discovered PAQ several years ago as a member of a caroling group that was donating to the organization. After learning more about PAQ, he was inspired to organize a fundraising album as a virtual replacement for caroling. To purchase this album, click here. Subsequent sales will continue to be donated to PAQ.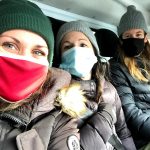 At the beginning of November 2020, Maïté found by accident the Calendrier de l'Avent Inversé project that occurs in France. She thought, "why not do it in Montreal?". With less than one month before Christmas, it was a challenge! At that moment, Claude proposed himself to get involved in the project, a well-appreciated partner.
Maïté looked for organizations to donate to that served people in need who experienced discrimination. Several volunteers made and collected six hundred boxes and redistributed them to many organizations, including PAQ.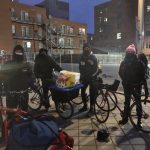 Michaël and the Crankmas team of Montreal donated a mountain of food to PAQ in December 2020. Cranksmas is an initiative made up of it's bicycle participants who receive  shopping lists to buy non-perishable goods to donate to organizations.
Over the years, they have help many organizations, but in 2020 they choose PAQ because: "The Indigenous people survived the devastating process of the colonization. Reconciliation will take time to occur, but we feel that every gesture counts. Indigenous peoples that are homelessness face additional challenges due to systemic discrimination by many in law enforcement. Throughout the pandemic, we have noticed the increased vulnerability of homeless people with regard to the COVID-19 virus."
Partners and Collaborators
CLSC des Faubourgs – Équipe Itinérance
Commissaire aux relations avec les Peuples autochtones, Ville de Montréal